Map Of St.John's City Grid
St. John's is the capital city of Antigua and the center of business, government and commercial activities in the country. St.John's Town was laid out on a grid pattern in 1702 and raised to the dignity of a city In 1842.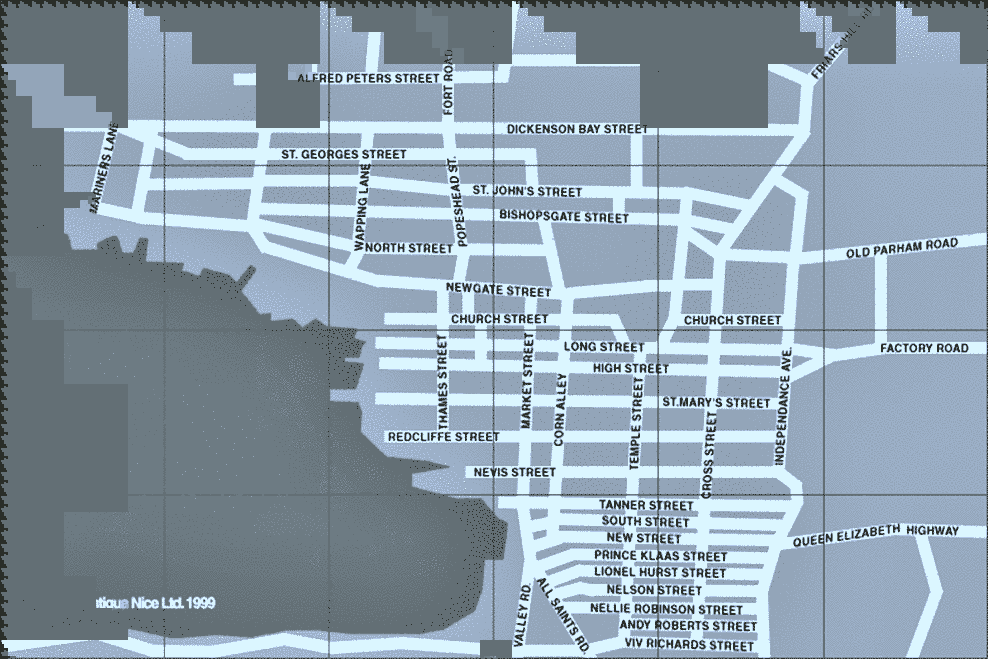 Find your way around the city can be difficult if the roads and street names are not clearly written and visible for all to see. The table below is a detailed list of the names of all the streets, avenues, and Roads in the city of Saint John's Antigua.
Streets In St.John's Antigua
Mariners Lane
Alfred Peters St
Fort Road
Dickenson Bay St
St.Georges St
Wapping Lane
North Street
Popeshead St
St.John's Street
Bishopsgate St
Friars Hill Road
Newgate Street
Old Parham Road
Church Street
Thames Street
Market Street
Corn Alley
Long Street
High Street
Temple Street
St.Mary's St
Independence Ave
Cross Street
Factory Road
Redcliffe Street
Nevis Street
Tanner Street
South Street
Queen Elizabeth Hw
New Street
Prince Klaas St
Lionel Hurst St
Nelson Street
All Saints Road
Valley Road
Nellie Robinson St
Andy Roberts St
Vivian Richards St
Menu