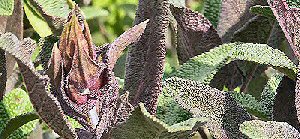 Purple Sage
Salvia officinalis Purpurascens Group has aromatic, spectacular purple-gray foliage that should be a focal point in the garden. It grows well in outdoor containers and raised beds. It can grow to 24-32" in height and spreads widely to 36".
Purple sage is the most effective sage medicinally, but it is less hardy than the garden variety. It can be brought indoors for winter to a bright, ventilated area.
Purple Garden Sage can be used just like regular Garden Sage. It rarely flowers which helps to keep it at more moderate height and from falling apart in the center. It looks great planted with gray leaved plants like Lavender. In fact, the two together make a great after shave!